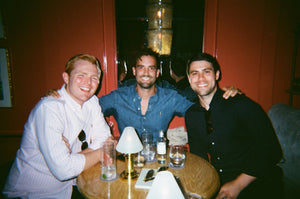 Our Story
After travelling through Portugal, experiencing the long,
hot, dry summer days, our founder, Harry, wanted to be able to capture more authentic moments with his friends.

He found many analogue cameras on the market were old, disposable and reminded him of mums in the 90s with their bob cuts and retro yellow kodaks taking pictures at some theme park. Instead, he wanted to create a trendy product which would allow people to spend more on flights than film.

When shooting analogue film, you are forced to slow down, look at your surroundings and savour the moment. Whether it is on a hot gravelly beach in Marbella, jumping off the back of a boat into the crystal-clear waters of Croatia or hanging out with friends on a weekend, Candido Colletive is here to help you share these memories.

Thank you to all who have made this brand and community such a success, it has been a pleasure to meet so many of you. What may be starting out as fun filled rolls of film will continue to grow and branch into other products which will hopefully bring moments of pleasure to you all.

Please email us at customercare@candidocollective.com and tell us how we can bring joy to your world. We love hearing about your travels and how we can help you tell your story. No Film, No Story!

Much Love, Candido.